Welcome to the Waste Not Want Not Wednesday link party! WNWNW is a place to find (and link up) gluten free recipes, eco-friendly tips, and frugal DIY tutorials. This link-up party is inspired by World Food Day (Oct. 16), and studies
such as this one
that show that between 40-51% of food in Canada and America ends up in the garbage. Over-consumption, lack of knowledge, low cost and over purchasing are common causes of food waste in North America. This unsustainable over-consumption extends to so many aspects of our lives.
So perhaps if we all share our tips for consuming a little less stuff in general, cooking more responsibly and frugally, and living eco-friendly, we can each take a small part in making our world a little more sustainable.
And besides, who couldn't save a little bit of $$$?
I'm sorry I didn't get around to visiting people this week - thanks to a massive windstorm our power was out for 33 hrs this weekend, and as of last night I know there were still pockets of people without. I hope any of you in BC affected by it are ok now!!
Sadly, my car is now on the fritz, so I've been running back and forth to the mechanics, and the hot water heater in our apartment died along with the power so we've had NO hot water since Friday...
Sooo Danielle is having a no-good very bad WEEK!!
But enough whinging, I still had time to pick this week's features and they are:
THANKS FOR SHARING AND FEEL FREE TO GRAB A BADGE FROM THE RIGHT!
WANT TO PARTICIPATE THIS WEEK? HERE ARE THE GUIDELINES:
1) Link to your blog post, NOT your blog's home page.
2) All recipes must be gluten free and consist of mostly unprocessed ingredients.
3) Other posts, such as frugal tips, DIY or crafty tutorials, or eco-friendly related posts are welcome.

4) Please provide a link back to this blog post or blog somewhere in the body of your post. (This is now mandatory. Sorry for the inconvenience)

5) Don't have a blog? No worries! Share your tips or recipes in the comments section.
Please note that by linking to Waste Not Want Not Wednesday, you acknowledge and allow Poor and Gluten Free to use your post photos on future WNWNW parties and on our social media platforms (such as Pinterest, Google+, Facebook, and Twitter). You will also automatically receive future email notifications for the Waste Not Want Not party only, which you can easily opt out of at any time. Your email address will not be used for any other purpose.
This week I'm sharing a recipe for Vegan, Gluten Free French Toast Bites and my Gluten Free Weekly Meal Plan.
And don't forget there's still a few days left to enter to WIN a free copy of my book Cooking and Baking with Gluten Free Beer on Goodreads!!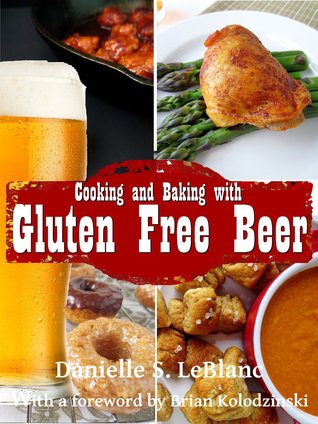 Enter Giveaway
AND NOW IT'S YOUR TURN TO JOIN THE PARTY!